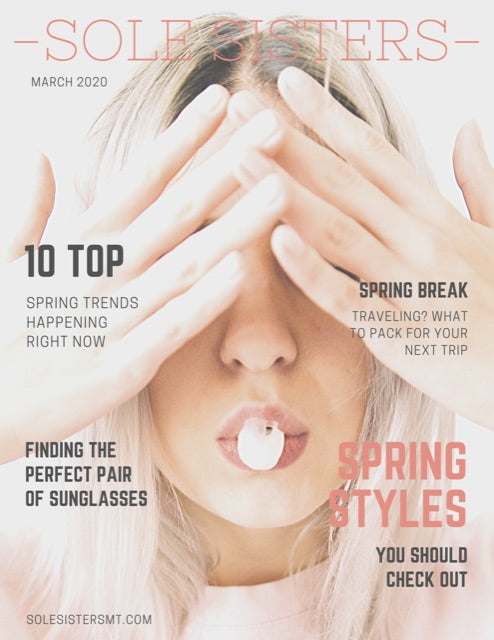 this is the month we welcome spring! a time for fresh beginnings, longer days, spring trends, and vacations for many! march has been unusually beautiful here in helena, mt and we couldn't be happier.  the past couple of winters have been long and cold far into the spring, so the nicer temperatures have had us all feeling excited!
the apparel trends are so diverse this year, there is sure to be something for everyone.  check out the list below.  we're excited to help you into a trend that fits your personality and style!
the top 10 trends this season
   1.  polka dots
   2.  daisies
   3.  tie dye
   4.  gauze fabric
   5.  jungle palm print
   6.  copper/spice/clay tones
   7.  business attire (ie blazers, lapels on dresses, jackets, blouses)
   8.  snake print
   9.  feminine/romantic details (ie ruffles, floral prints)
  10.  neutrals and neons
moving on to your spring break travel.
   if you're lucky enough to pack a bag and travel this spring break, we want to help you with fabrics that keep you cool, look your hottest, and travel with ease. we have those fabrics that will take care of you for your every day adventures!
  don't forget to protect your eyes!  we have a large selection of toms eyewear available in polarized and non-polarized options.  fashion meets function in these amazing sunglasses from basic black to this season's most fashionable color selection. 
  footwear for your travels is important too!  from the comfort of sneakers, to the ease of flip flops,  we've got you covered for the perfect comfort and style! don't forget to throw in your "little black sandal" for dinner out!
  enjoying a "staycation"? come visit us here at the store, or shop our instagram! grab coffee downtown and come in and shop with us! we are happy to show you around the store, share our favorites and enjoy some relaxing time together.  if you're out of town, follow us on our instragram page, solesistersmt, and watch our stories.  we love to actively shop with you, sending photos or doing a facetime walk through of the newest items to arrive.  we are always happy to ship to your doorstop too!
so, we're glad you took the time to visit our site today.  we welcome spring, and can't wait to have you shop with us!  as always, we sincerely appreciate your support, and thank you from the bottom of our hearts!
happy spring sisters!
gerry & kim