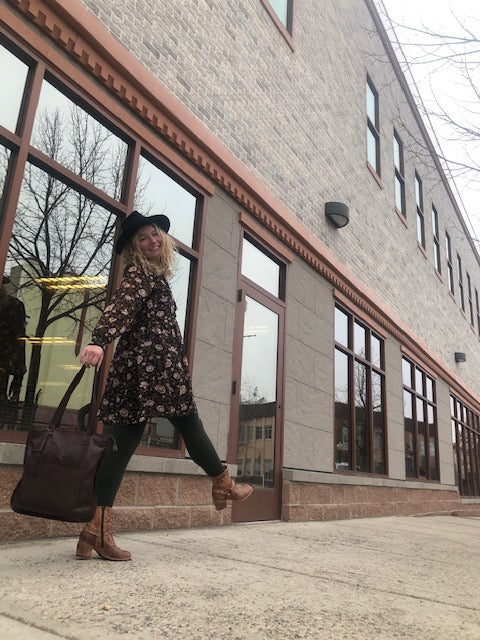 november kicks off a month of exciting events!  a time to celebrate and give thanks for all we've been given. here's what's happening with us!
we kick off the month with our monthly featured artist, cinder alley! tamra is from ortonville, mi and loves to create unique, one-of-a-kind eclectic bohemian jewelry using organic materials such as bone, porcupine quills, feathers and crystals.  she finds inspiration in nature among other places. cinder alley is made from jewelry fragments that tamra finds from antique shops and flea markets. she has a passion for digging through old jewelry remnants and repurposing them into something new and beautiful. shop the cinder alley collection this month only at -sole sisters-.
friday, november 8th we celebrate fall artwalk with two amazing featured artists. kerry robertson of tears of the sea jewelry is one of our friday evening artists. here's a bit about this skilled artist. sea glass is often poetically referred to as "mermaid tears". sea glass comes from broken glass that has been tumbled by sand, water and time until it's very smooth. tears of the sea jewelry uses sea glass found by kerry and his wife, ivy, on the beaches of maui, hawaii. smoothed only by the natural tumbling, the glass has not been polished or shaped. each piece stirs the imagination of its origin. you won't want to miss this beautiful collection.
also, joining us this evening is karen putman. karen putman is a helena native. after 30 plus years working with her husband and raising 4 kids, she has carved out some time to re-enter her passion for creativity. karen's latest medium discovery is encaustic painting, the art of painting with wax and heat. encaustic painting is a mixed media technique using heated beeswax and resin, adding layers of wax and different colored pigments. with encaustic painting, creating or altering images and landscapes with layers of wax and color, creates soft, translucent finishes and adds interesting textures. karen's artistic past includes work in pen and ink, a little watercolor, and she is always re-purposing vintage finds.
make sure and join us during the fall artwalk for an evening of shopping our featured artists.
monday, november 11th is veteran's day. we want to thank all of those that have served our country present and past.  today only, show your military id, and receive 25% off anything in stock, sorry no special orders. 
wednesday, november 20th decorate downtown. if you love the holidays and decorating, downtown would love your help. this is a volunteer effort to beautify downtown helena in the spirit of the holidays...join in!
thursday, november 28th we wish to thank all of our customers and friends for their support throughout the year. we wish you all a happy thanksgiving!
friday, november 29th we kick off "black friday" with a fun filled day of holiday shopping! we will have specials throughout the store and thank you for shopping local this holiday season.  close out the day with a little late night shopping and enjoy the parade of lights at 6pm.
saturday, november 30th we close out the month with style as we celebrate "small business saturday". stop in and meet miss montana, mo shea, and kick off your season shopping local.  we thank you for considering us as you make your holiday gift buying decisions and choosing local.